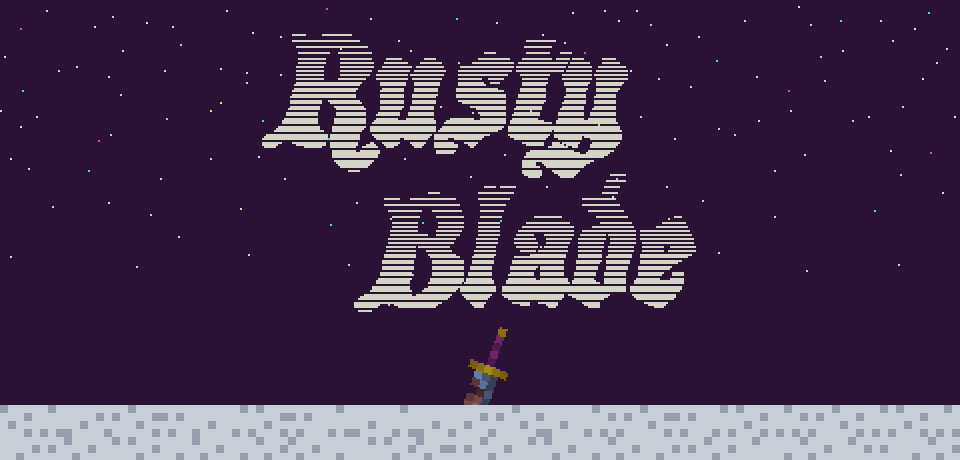 Rusty Blade
DL06 - Patch Notes (v1.2)
---
Rusty Blade Version 1.2 is here, and with it a number of bug fixes and performance improvements.

:: PATCH NOTES ::
Fixed a bug where the player could interact with some objects while the menu is open.
Removed interaction arrow from the dog bone when it is no longer interactable.
Added instance_exists() checks to two game objects to correct a bug that could cause the game to crash.
Greatly improved parallax scrolling:

Sky layer tracks properly and no longer appears too close.
Moon layer tracks better and moves more smoothly.
Tree layer no longer pops out of the ground when walking upstairs.

Added an impact sound effect when throwing the bone against the side of the house.
Fixed a bug where the bone could be dropped at the edge of the porch and get stuck.
Tweaked the dog AI / fetch interactions for better responsiveness and to eliminate some bugs.
Added some logic to prevent multiple simultaneous player actions from occasionally triggering on the same key press (e.g. throwing the bone and sipping coffee).
Corrected a text alignment issue in the SFX credits screen
:: PERFORMANCE IMPROVEMENTS ::

Disabled redrawing the application surface when increasing / decreasing the game window size.

The application surface is now fixed at native 480 x 270. Increasing / decreasing screen size with Numpad +/- scales the view 1-4x but does not redraw the application surface.

Since the game does not zoom dynamically and each zoom level is a fixed multiple of the native resolution, redrawing the application surface is not necessary. Disabling this gives a performance improvement with no impact on visuals.

Removed the debug object from the main game room (not used in the released game) for a minor performance upgrade.
The game is now natively compiled for Windows using the YoYo Compiler, resulting in a significant performance boost (+200-400 fps).