Rusty Blade
:: CONTROLS ::
Navigation: Arrow keys, WASD
[B1] Menu: Z or period
[B2] Action: X or /
:: ABOUT ::
An entry created in 2 1/2 weeks for AGBICjam 2017, based on a fictional Famicom cartridge design by Chiwis.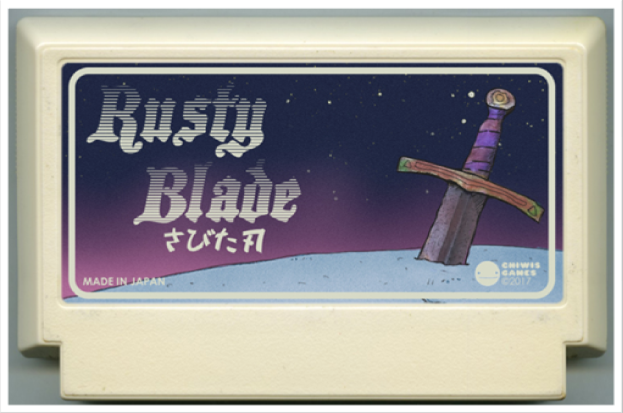 After 30 years, an old adventurer comes out of retirement to gain one last level, the arduous level 99. As the dust falls off the rusty blade thoughts of regret and awakened wonderment of what is to come begin to seep in...


:: GAMEPLAY ::
Rusty Blade is a short, surprising adventure game about friendship and the quest for XP, that takes place inside a fictional MMORPG world. I hope you enjoy it.

Unofficial gamepad support:
:: AGBIC JAM ::
View the Submission Page, let me know what you think in the forums and make sure to check out some of the other great games that came out of the jam!

AGBIC 2017 Diversifiers:

Winnitron!


Only 2 buttons and 4 directions allowed for controls

glitch lyfe

Silly, non-gamebreaking bugs were left unfixed

Fuck This Jam
Remember to FLOSS!

Source code is available under a free license. see DevLog 5


:: CREDITS ::
Original Famicase design and game concept (tagline) (c) 2017 Daniel Ponce. Used with permission.
Source code & graphics assets created & developed by Ramifactor
Music by Scott Buckley - www.scottbuckley.com.au
SFX created by Ramifactor from original recordings by:

jorickhoofd, bajko, btherad2000, cabled_mess, ppfpower87, denao270, dobroide, Dymewiz, iujhu, j1987, jasonelrod, LiamG_SFX, lucktheone, littlerobotsoundfactory, toefur, MrAuralization, naturenutt, DamianMinnie, nickyg11p, Samulis, Omar Alvarado, swuing, pogmothoin, 7778, Yap_Audio_Production and Esper Studio
Finally, a huge thanks to anyone who has taken the time to share their thoughts, and to those who have provided constructive feedback along the way to help make the game better.



| | |
| --- | --- |
| Published | Sep 25, 2017 |
| Status | Released |
| Platforms | Windows, HTML5 |
| Release date | Sep 25, 2017 |
| Rating | |
| Author | Ramifactor |
| Genre | Role Playing |
| Tags | 2D, Action-Adventure, Action RPG, Fantasy, GameMaker, Pixel Art, Retro, satire, Short, Story Rich |
| License | Artistic License 2.0 |
| Average session | A few minutes |
| Languages | English |
| Inputs | Keyboard, XBox 360 controllers, Gamepad (any) |
| Links | AGBICjam 2017, IndieDB, Source code, Twitter |
Install instructions
Unzip and run the executable.